All-in-one multi-technology RO-EDI plant – designed to deliver high purity water
The Envirogen Eco MultiPro combines three powerful technologies into one skid-based, plug-and-play design. Eco MultiPro uses reverse osmosis (RO) and electrodeionization (EDI), along with carbon dioxide (CO2) degas membranes, as standard, to deliver high-purity water streams for a wide range of ultra-pure water applications. These include ultrapure water generation for steam turbines and high-pressure boilers, microelectronics production, general industrial needs, and pharmaceutical rinse water.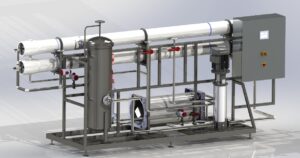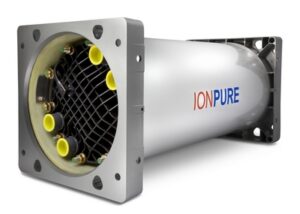 Eco MultiPro RO-EDI plant, featuring reverse osmosis membranes, CO2 degas membranes and electrodeionization VNX modules.

Produce high-purity water in one compact system – with no chemicals and low operating costs
High purity water streams are essential to many industrial and manufacturing processes. Dissolved ions can lead to corrosion or scale build-up and suspended solids can precipitate and damage critical and valuable equipment.
To produce ultra-pure water, multiple technologies are often used to tackle each type of impurity, but this can often mean multiple, large-footprint equipment with complex connections and the use and storage of hazardous chemicals.
Our Eco MultiPro RO-EDI water system combines multiple, advanced water treatment technologies in one straightforward design. Each system is skid-mounted, pre-assembled and pre-tested at our world-class manufacturing facilities. This means that each Eco MultiPro system arrives ready for fast integration with existing processes and quick start-up. Because Eco MultiPro is based on RO-EDI technology, no chemicals are required, reducing storage space and the risks associated with handling hazardous chemicals.
With high-efficiency, low energy reverse osmosis membranes, operating costs are lowered and water recovery rates of up to 98% can be achieved, keeping waste streams low.
Our standard systems produce flow rates of between 20 gpm (5m3/h) to 65 gpm (15m3/h), with larger custom-build systems available on request.
Eco MultiPro – advanced RO-EDI technology
Each Eco MultiPro RO-EDI water system is comprised of three core technologies:
Reverse osmosis membranes – our high efficiency, low energy membranes force water through a semi-permeable membrane, removing 99.9% of all viruses, bacteria, pyrogens and suspended solids and 96-99% of dissolved ions and organic compounds.
Degas membranes – the water is then passed through CO2 degas membrane contactors. By removing CO2 at this stage, downstream electrodeionization becomes more effective and efficient, reducing costs and the size of the plant needed.
Electrodeionization (sometimes called continuous electrodeionization, CDI or CEDI) acts as the final polishing stage, removing all remaining ions. Unlike some other deionization technologies, electrodeionization requires no hazardous regeneration chemicals. The resulting demineralized water streams achieve conductivity of less than 0.1 micro siemens (µS), with less than 10 parts per billion (ppb) silica and less than 10 ppb sodium.
Advanced digital monitoring for maximum efficiency
Every RO-EDI plant comes complete with advanced operation and monitoring technology.
The PLC and HMI control panel provide secure login for authorized personnel. Operational parameters can be adjusted, and status indicators viewed, with security features preventing accidental or unauthorized access. Historical data and trend analysis enable operators to adjust settings and maximize plant efficiency, further reducing operating costs and waste.
Remote monitoring by Envirogen engineers provides additional insight and predictive maintenance triggers to ensure continuous operation and a total low cost of ownership. All RO-EDI plants are supported by our service and maintenance plans, with access to a network of nationwide aftersales support.
Eco MultiPro RO-EDI plant
Best for:
Ultra-low conductivity streams
Sites where hazardous chemical handling is an issue
Saving space
Quick start-up and easy integration with existing processes
High-purity processes, such as pharmaceutical rinse water, microelectronics manufacturing and general industrial use
Steam turbines and high-pressure boilers
Eco MultiPro delivers:
System recovery rates of up to 90%
Removal of up to 99.5% of dissolved ions
Removal of 99.9% of organic compounds, viruses, bacteria and pyrogens
Conductivity at less than 0.1 µS
Less than 10 ppb silica
Less than 10 ppb sodium
Low operating costs and low total cost of ownership, particularly when used with Envirogen consumables
Purified water streams without the use of chemicals
Compact design
Quick start-up – each system coming skid-mounted, pre-assembled, pre-tested and ready to plug-and-play
Easy operation with a straightforward HMI and PLC control system
Intelligent remote monitoring with alarms
Choose:
From three standard models with flow rates ranging from 20 gpm (5m3/h) to 65 gpm (15m3/h)
Custom-made largescale models are available to meet larger production demands
Stainless steel, acrylonitrile butadiene styrene (ABS), polyvinylchloride (PVC) or polypropylene (PP) pipework are available
| | | |
| --- | --- | --- |
| Model | Maximum flow rate in gpm (m³/h) | Datasheet |
| Eco MultiPro-5 | 20 (5) | |
| Eco MultiPro-10 | 45 (10) | |
| Eco MultiPro-15 | 65 (15) | |