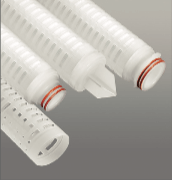 Envirogen supplies filter cartridges using a wide range of depth and membrane filter media, with filtration ratings from 0.1 micron microbial to 200 microns. These are used as prefilters, final filters and sub-micron membrane filters and are suitable for use in new installations or as replacement cartridges in existing systems.
Available in a range of industry standard lengths from 5" (125mm) to 40" (1000mm) nominal or absolute micron ratings, Envirogen filtration cartridges are supplied with end fittings to suit most industry standard filter designs. This ensures that the cartridges can be easily and securely fitted into existing filtration systems for optimal performance.
When you work with Envirogen for your filter cartridge requirements, you have access to industry leading process specialists to develop the highest performing, lowest lifecycle cost solutions.
Every product supplied is quality control checked, tested and guaranteed to international standards giving the peace of mind and assurance you need. All the cartridge products are manufactured in controlled environments using well defined and documented work instructions and quality plans, thus ensuring the highest quality and cleanliness standards are consistently maintained.
Envirogen Filtration Catridge Overview
Depth Filter Cartridges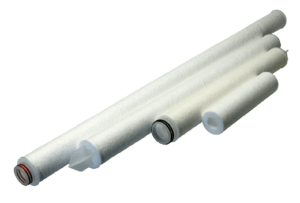 Suitable as either prefilters or final filters, Envirogen offers a range of absolute and nominal rated depth filters using polypropylene meltblown media with removal ratings ranging from 0.5 – 100 μm. Filters are supplied in standard 2.5" format as well as Big Blue 4.3" diameter elements and can be fitted with all the most common end styles to assure fitment in your housing.
Meltblown Depth Filter Product Datasheets
Deltapor MB
Deltapor MBA
Deltapor V
Pleated Filter Cartridges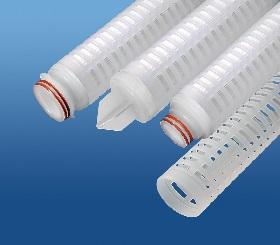 Envirogen pleated cartridges employ different media types, including polypropylene, polyester, glass fiber and nylon with absolute removal ratings ranging from 0.2 – 100 μm. Filters can be supplied in standard format or as large diameter, high flow versions for ultimate efficiency, depending on the application.
Pleated Filter Cartridge Product Datasheets
Poliflo Range
Poliflo HFC
Membrane Filter Cartridges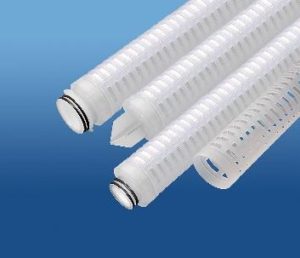 Designed for sub-micron filtration, these cartridges are selected to suit the characteristics of particular process applications, with high flow rates and the ability to be repeatedly integrity tested to give optimum filtration performance. They can be used as prefilters or final filters and are suitable for particulate or microbial reduction in critical applications.
We offer absolute rated pleated membrane filters with either hydrophilic polyethersulfone (PES) or hydrophobic PTFE media. These are supported with comprehensive technical documentation.
Membrane Filter Cartridge Product Datasheets
Bevflo BH
Bioflo PT
Mempor G
Mempor W
Activated Carbon Cartridges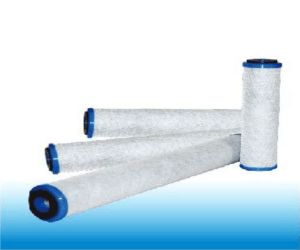 Envirogen supplies cartridges containing activated carbon in a sintered carbon block format, that provide effective removal of contaminants in a clean and easy to use package.
Typical applications include chlorine removal and decolorization.
Carbon Block Cartridge Product Datasheet