PureSep NF Nanofiltration Systems
Envirogen PureSep NF is a unique new membrane-based filtration process that leverages the strengths of hollow fiber membrane technology and nanofiltration membranes (NF) into a sustainable membrane filtration solution. Nanofiltration remains unique in the water treatment industry with very few nanofiltration companies worldwide offering similar nanofiltration systems. Envirogen is proud to be at the forefront of such innovation.
Innovative direct nanofiltration membrane technology
Our innovative PureSep NF system takes filtration to a new level with its unique, direct nanofiltration hollow fiber membranes (dNF membranes) , manufactured from polyethersulfone. PureSep NF offers the additional benefit of reducing conductivity in feed streams by rejecting larger dissolved molecules, thanks to its 400 Dalton (Da) molecular weight cut-off (MWCO).
PureSep NF can be used as a single-step replacement for multiple process stages, including coagulation, clarification, sand filtration, ultrafiltration and reverse osmosis. Our nanofiltration process has a low chemical requirement and delivers significant energy savings and carbon footprint reductions when compared with conventional technologies, such as reverse osmosis, adsorption and oxidation.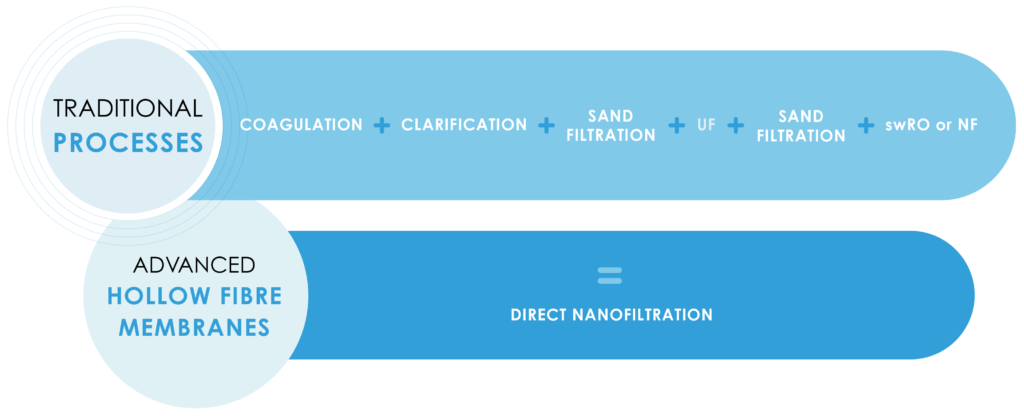 By virtue of its solids handling capability and salt rejection properties, the PureSep NF
nanofiltration process can replace multiple stages simultaneously.
PureSep NF hollow fiber membranes benefits
When you make the switch to PureSep NF nanofiltration systems you invest in future-proofed membrane filtration technology offering distinct benefits across all applications:
Low operating pressure resulting in low energy use
Chemical free process
Low fouling
Back-pulse sequences
Simple / single stage process
Sterile barrier that removes viruses, micro-plastics, and nano-plastics
Ongoing support and full lifecycle value – with service and maintenance packages
Nanofiltration water treatment plant
PureSep NF is an excellent choice for surface water treatment and waste stream recycling, providing rejection of dissolved solids up to 300ppm with a fraction of the energy needed for comparable spiral wound reverse osmosis processes. Each hollow fiber membrane offers high fouling resistance with no pre-treatment.
In addition to water recycling applications the membranes' ability to reject organics means it's ideally suited for the polishing of surface waters to achieve potable water standards in a single stage process.
PureSep NF excels in the following process applications:
Recycle and reuse of wastewater
Caustic cleaning agent recovery
Caustic wastewater recovery from sugar fractionation
Color removal in F&B applications
Desalination of cheese whey
Dye removal in the textile industry
Ethylene glycol reclamation
Organics removal from ion exchange (IX) regeneration solutions
Recycling of RO concentrate
 X-ray contrast liquid concentration
How does nanofiltration work?
PureSep NF nanofiltration membrane filtration technology works by combining properties that usually require multiple process stages by using a unique layer-by-layer coating that's applied to a robust, hollow fiber membrane configuration. It's this application of polyanion and polycation layers that enable the nanofiltration membranes to offer reductions in dissolved salt content.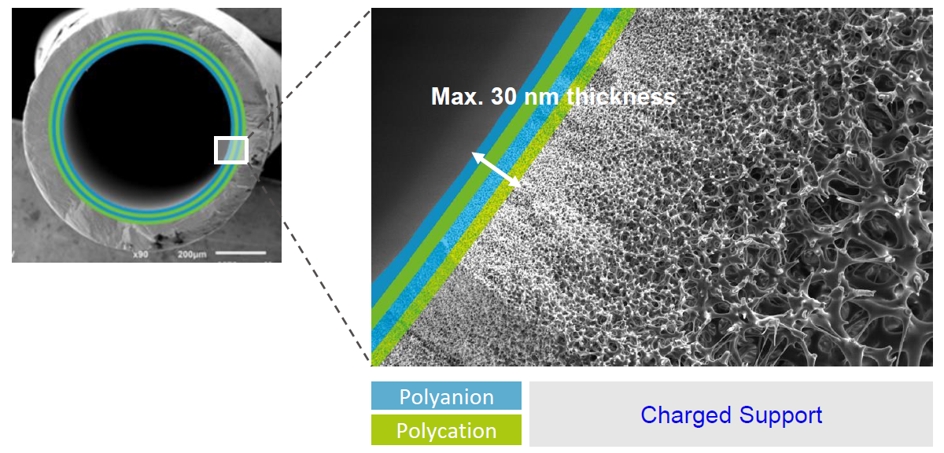 Robust hollow fiber membrane configuration: Envirogen PureSep NF membranes use
revolutionary layer-by-layer nanofiltration membrane materials (unique membrane coatings).
Membrane filtration equipment built for superior, high-quality performance in a compact modular design
The Envirogen range of PureSep nanofiltration systems is based on a modular design and can be customized to meet manufacturers' exact requirements. The compact, skid-based NF systems slot easily into existing processes and even congested operational environments.
PureSep NF system configuration:
Each hollow fiber membrane filter offers 462.8 ft2 (43 m2) of membrane surface area in a single filter vessel housing
Range of standard designs available from 4.5g pm (1 m3/hr) to flow-rates in excess of 440 gpm (100 m3/hr)
PureSep NF skids can operate as standalone units, provided with a central system and Siemens PLC touchscreen human-machine interface (HMI), with back-pulse pumps as standard. With integration becoming an important feature of modern operations, PureSep NF systems can be easily connected to supervisory control and data acquisition (SCADA) systems for complete control, with every skid containing remote monitoring and data trending capabilities.
Nanofiltration systems - pilot plant trials and equipment
The Envirogen PureSep NF range includes a series of piloting plant and testing capabilities, including off-site manual bench-top pilot testing and larger on-site pilot plant equipment.
Off-site manual bench-top pilot
Envirogen's nanofiltration manual pilot plant enables off-site testing of samples and comprises 0.5 ft2 (0.05 m²) of membrane surface area. This unit will produce around 0.85 fl oz/minute (25 ml/minute) and is ideal for creating samples for lab analysis and initial process assessment.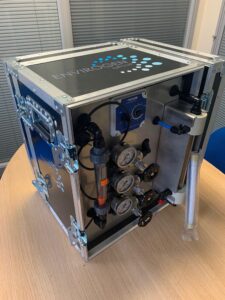 Envirogen's benchtop nanofiltration pilot plant
On-site mobile testing systems
On-site pilot plant trials would be conducted using mobile NF skids. These provide 150 ft2 (14 m2) of membrane surface area and are able produce between 1.25-1.8 gpm (350-500 litres/hour). These mobile nanofiltration plants are mounted on compact sized skids with forklift slots for easy offloading and on-site positioning.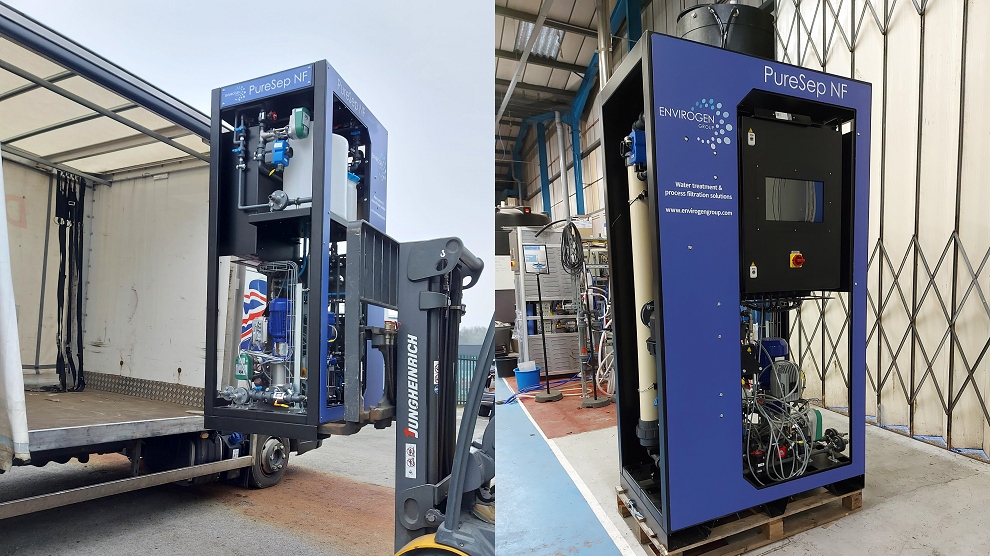 Nanofiltration membranes for water treatment: An Envirogen PureSep NF mobile skid testing system is being unloaded at a customer for on-site water recycling trials