Portable exchange deionization concept
If you require purified water with minimal outlay, then Envirogen portable exchange deionization (PEDI) is for you. Our service deionization tank exchange programs provide a safe and economical way for you to obtain consistent, high-purity water from potable feed water.
Our reliable service deionization systems consist of activated carbon and high-quality ion exchange resins in movable exchange tanks that are connected directly to your plant water, incoming feedwater, or service water. Tank sizes range from 1.2 cubic feet to 30 cubic feet and incorporate a range of ion exchange resin types and volumes. This gives flexibility to accommodate different effluent quality and flow rate requirements. The ion exchange tanks remove ionic contaminants that are harmful to many industrial and commercial processes.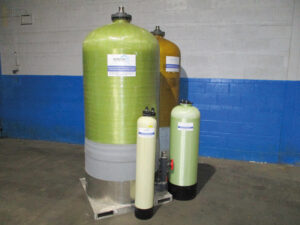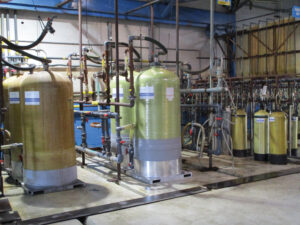 When portable exchange deionization tanks are exhausted, they are removed and replaced on-site with freshly regenerated tanks. An Envirogen service technician performs the service exchange of the equipment to ensure continuous and uninterrupted supply of high-purity deionized water (also called demineralized water) to your operation.
Advantages of portable ion exchange resin-regeneration service:
Provides consistent and continuous source of high-purity water
Designed for your specific application
Cost effective, with no capital purchase required
Requires minimum operator attention or maintenance
No on-site chemicals or waste handling
Ion exchange vessels are easily exchanged, modular and expandable
Enhanced media capacity and service life
Markets Served:
General industry
Hydrocarbon and chemical processing
Power and energy
Manufacturing
Steel and aluminium
Food and beverage
Laboratory
Medical / Hospitals
Pharmaceutical
Universities
Reliable and dependable service
Envirogen provides ion exchange resin regeneration services and equipment from our Memphis, Tennessee Service Center, where we regenerate and process various types of ion exchange resins used in applications ranging from high purity/deionized water production to wastewater service deionization for removal of metals from wastewater streams. The efficiency of the facility allows us to give you high quality pure water with great value. We take care of everything. This includes the collection, delivery, regeneration and return of the deionization water tanks.
Meeting your exact requirements
Envirogen takes a solutions-based approach to service deionization. Our team of process experts discuss your application and your goals to understand your desired outcome. We then give you expert advice based on the most economical and reliable service unit type for your application, water quality requirements, and projected demand. This includes an assessment of key factors including your feedwater quality, flow rate and product water quality requirements.
Portable exchange deionization systems can be provided on an as needed basis, regular/scheduled frequency, or as part of a broader preventative maintenance service for your water system. Furthermore, our portable exchange deionizers are flexible with your future needs. If your requirements change, we can simply switch the media types and/or tank size saving you significant capital expense.

Range of systems and configurations
Envirogen PEDI high purity water systems are available in several system configurations. Your system is customized for size, capacity, and system configuration to help meet your specific water quality and quantity needs in the most efficient and economical operation – including two-bed, mixed-bed, and multiple-tank portable exchange deionization systems.
Envirogen offers a range of resin and media types:
Granular Activated Carbon (GAC) – These units are primarily used to remove chlorine, chloramines and dissolved organic contaminants which will protect downstream operations. GAC units contain carefully selected carbon types to assure continued water quality and service life.
Strong Acid Cation Deionizer (SAC) – Cation resins can be supplied in the hydrogen form or the sodium form depending on the needs of the process. SAC removes positively charged dissolved ionic contaminants such as calcium, magnesium, potassium, sodium, iron, manganese, and other metals. Depending on requirements, SAC deionizers can be used in stand-alone mode or in conjunction with a strong base anion deionizer.
Strong Base Anion Deionizer (SBA) – Anion resins can be supplied in hydroxide or chloride form depending on the needs of the process. SBA removes negatively charged dissolved ionic contaminants such as carbonate, bicarbonates, sulfates, chlorides, nitrates, and silica. SBA deionizers are typically used in conjunction with SAC deionizers as a two-bed system but can be used in stand-alone situations as the process needs dictate.
Mixed Bed Deionizers – Typically used for applications and processes demanding higher quality water with a more neutral pH than a two-bed system. They can also offer enhanced silica and CO2 removal. In-line quality monitors can be supplied to alert users when resin tanks need to be changed.
Chelating Resins – These are specialty resins designed to remove metals under a variety of conditions and pH. Envirogen offers a range of chelating resin types and can design a protocol to meet the specific process needs for removal of metals applications – including heavy metals, platinum group metals, and alkaline earth metals.
Further Reading on Portable Exchange Deionization