RO Membrane Cleaning Service - Off-Site Testing, Cleaning, and Preservation
High-quality demands and fast-paced production increase operational demands on membrane filtration systems. Regular servicing, optimization and on-site RO membrane cleaning service cycles can remove much of the daily fouling and keep reverse osmosis membranes working, however, more severe fouling can occur over time, requiring longer soak times, the use of more aggressive cleaning chemicals and occasionally, a membrane integrity test and investigation to understand the root cause of elevated fouling levels.
Fouling and scaling can cause long-lasting, irreversible RO membrane damage when left untreated, leading to performance issues, process downtime, and shorten membrane life. But, with increasing production schedules, limited space and the lack of specialized equipment, many businesses struggle to complete the proper level of RO membrane cleaning on-site.
That's where Envirogen can help. Our off-site reverse osmosis membrane cleaning centers perform more rigorous cleaning, complete with pre cleaning and post cleaning membrane testing to ensure the membrane is returned as close to its original specifications as possible. A report is provided showing the extent of improved performance after RO membrane cleaning. The service can include preservative, vacuum sealed bagging, and boxing if specified.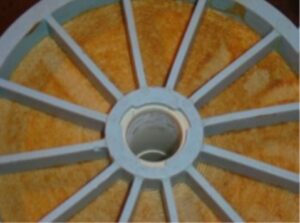 Example of a fouled reverse osmosis spiral wound membrane
Reverse Osmosis Membrane Cleaning (Off-Site)
Our off-site RO membrane cleaning services are based on over 25-years of experience designing, installing, testing, and servicing membrane treatment and filtration systems.
Our fully equipped service center provides:
Pre-clean testing of each RO membrane according to membrane manufacturer specifications
Increased cleaning efficiency through use of high-purity deionized water
Established RO membrane cleaning service protocols. By understanding the nature of the fouling/scaling and its cause, specific cleaning cycles, chemicals and soak times are utilized to bring membranes back to nearly new original performance
Post-clean testing of every membrane is performed, with a report provided to the customer, comparing performance results to the pre-cleaning testing
RO membranes can be preserved, vacuum-bagged and boxed
Cleaned and recovered membranes can then be stored for immediate replacement should off-site membrane cleaning be needed in the future. Pre-emptive off-site membrane cleaning can then be built into service protocols to prevent severe fouling and breakdowns in the future.

Our RO membrane cleaning service method is highly effective as it utilizes a 2-membrane vessel cleaning skid to reduce downstream elements. This approach is significantly more efficient than 5-6 membrane vessels used in normal clean-in-place (CIP) cleaning.
We offer comprehensive testing, alongside RO membrane cleaning service of the following water treatment and filtration membranes:
Our comprehensive chemical and physical RO membrane cleaning procedures remove the following contaminants:
Scale – including calcium carbonate, sulphates and silica
Colloidal contaminants – humic acids, fulvic acids and clays
Particulates – including sand, carbon fines and breakdown materials from system components
Biological contaminants
High-recovery reverse osmosis nanofiltration system installed for Britvic.
When membranes come to the end of their natural life, quality standards start to decrease, yields reduce, and more energy and chemicals are needed to achieve required outputs.
As a supplier of a wide range of replacement membranes, we select the ideal product for your application. We understand your exact requirements, review the latest available technology, and find the best solution to meet your filtration goals. Our spiral wound membranes are competitively priced, and we offer additional discounts based on volume.
We supply Toray, Suez, LG Chem, Hydranautics, Dow Filmtec, Mann + Hummel, Lanxess, Microdyn, Tricep, as well as a range of other replacement membranes.