Wastewater Service Deionization (WWSDI) - Ion Exchange Services
Envirogen Technologies provides ion exchange resin regeneration services and equipment from our Memphis, Tennessee Service Facility, where we regenerate and process all types of ion exchange resins used in applications ranging from high purity/deionized water production to removal of heavy metals from waste streams. Our wastewater service deionization (WWSDI) services are structured and centrally managed to achieve maximum sustainability and recyclability.
As every application or specification can be different, Envirogen thoroughly evaluates each to recommend the most efficient process configuration to meet your needs. We provide complete system design, installation, and custom services that treat industrial water, process water, and wastewater contaminated with non-hazardous heavy metals – including zinc, copper, nickel, and chromium to low part per billion (pbb) levels.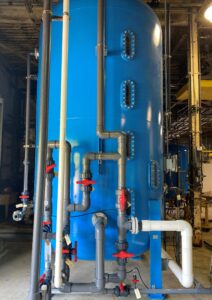 Off-Site Resin Regeneration
Ion exchange is a long-proven technology for the removal of inorganic contaminants. Off-site regeneration provides an efficient, economical way of meeting your environmental requirements, without the high costs of capital or purchasing new media each time. Maximizing each regeneration cycle is a science and a skill that requires a high level of expertise. Most operations do not have the time, the capabilities, or the experience to perform the task optimally. That's where Envirogen comes in.
Envirogen owns and operates an ion exchange regeneration facility with the technical expertise and equipment necessary to safely manage regeneration of exhausted resins while remaining environmentally compliant. Our team specializes in removing collected contaminants and restoring exhausted resin to its proper ionic form so it can be returned to service. WWSDI services also save valuable manufacturing space while minimizing your operational and maintenance requirements.
Advantages of wastewater service deionization:
Cost-effective
Ensures environmental compliance
No on-site waste treatment
No hazardous chemicals stored or handled on your site
No regenerant wastewater discharge
Simple and sustainable way to supply pure water
Reduces cost of make-up water for water reuse and recycling
Scalable treatment – optimal for varying production rates
Effective treatment option for clean-up of retention ponds, cooling loops or spills
Space saving, service-based approach that integrates equipment and service option combinations
Flexibility of short-term or long-term treatment needs
Meeting your exact requirements
Envirogen takes a solutions-based approach to WWSDI. Our team of regeneration experts discuss your application and your goals to understand your desired outcomes and give expert advice based on your exact application and system configuration. This includes an assessment of key factors including your on-site access and space limitations, available manpower, operational hours, flow rate, chemistry process, and your specific reuse or discharge quality requirements.
Our wastewater service deionization systems are flexible with your future needs. If your requirements change, we can simply switch the media types and/or tank size saving you significant capital expense.
Markets Served:
Aerospace
Boiler and/or cooling tower blowdown
Circuit board assembly and manufacturing
Electro-discharge machining (EDM)
General manufacturing
Groundwater remediation
Heating and cooling loops
Magnetic/digital media production
Microelectronics
Parts washing
Telecommunications
Others
Contaminants Removed:
Arsenic
Cadmium
Chloride
Chromium
Copper
Lead
Molybdenum
Nickel
Sodium
Sulfate
Zinc
Envirogen's wastewater service deionization utilizes ion exchange resins and other media selected to remove specific ionic contaminants from groundwater, industrial wastewater, and process water for discharge, reuse, or recycle.
Throughout the process your resin will be segregated from other customer resins to avoid any cross contamination. Properly sized vessels containing the selected resin or media will treat your water stream until the capacity is reached. Once exhausted, the WWSDI vessels are removed from service and fresh vessels are installed and placed in service. The exhausted vessels are returned to Envirogen's regeneration facility where the contaminants are removed from the media/resin for proper disposal.
WWSDI Tank Specifications

Envirogen WWSDI systems handle a variety of non-hazardous industrial water treatment needs. We are not a permitted TSDF and do not treat hazardous wastes (e.g., F006, other listed, or characteristic hazardous wastes).
Further Reading on Wastewater Service Deionization